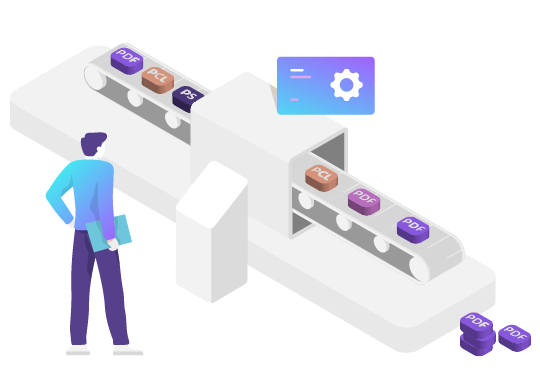 Convert anything…
in anything
Until now, printing a document on a printer required the printer to have all the necessary fonts installed on it.
Lots of solutions in the market address this need in various ways, with in common the need to do something on the printer itself (install a dongle, a memory card, a network box, deploy a soft font…)
With SaazleTransform® these days are gone, the only place where you have to configure fonts is Saazle.
With SaazleTransform®

you will…

Print anything
on any printer
With SaazleTransform®, even Unicode printing is possible on a non-Unicode printer.
SaazleTransform® will enrich your Unicode documents from SAP or other enterprise applications, so you can send them to any Postscript or PCL printer.

Simplify
developments
With SaazleTransform®, your central development team in Europe does not need having a printer with the same fonts configuration as the one supposed to be used in Asia, nor working with remote people to ensure everything is printing ok.

Simplify printer
fleet management
With SaazleTransform®, all the specific tasks required for fonts configuration are not required anymore, so installing and maintaining your printers is easier and faster, and your print based business processes are safer.

Simplify SAP
configuration
Tired of managing hundreds of devices types for your different printers ?
With SaazleTransform®, in SAP or any other enterprise application, you only need a couple of device types or drivers to print on any Postscript or PCL printer.
Want to know more about how SaazleTransform®
will transform your everyday work ?