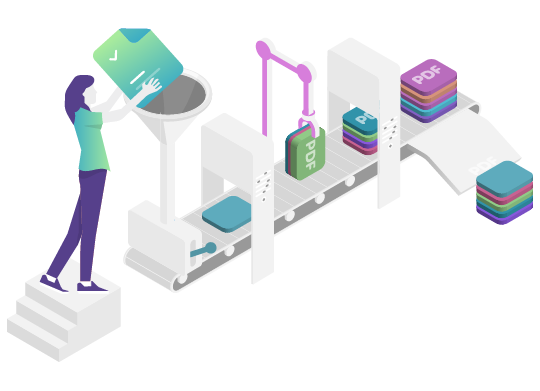 With SaazleShipment®, you can aggregate together documents generated from anywhere and anytime, at the time you really need them, in a completely automated way.
Because SaazleShipment® is generic, you can use it for any business case that requires such synchronisation, like grouping thousands of truck shipment documents just before printing them, or generating intervention reports made from several documents for your customers.
« Real time business rules engine »

At the heart of SaazleShipment® is a real time business rules engine, giving you total control on how your documents will be grouped together, according to your own business rules.
Every time a document is received, it will automatically process your business rules, matching the document's properties with the ones of previously received documents. And when the document is the last missing one according to some of your business rules, then SaazleShipment will automatically aggregate all the related documents into a single one, following your grouping requirements.
With SaazleShipment®

you will…

Save time
& increase quality
Often, synchronizing printouts is a manual process done at printer level. Have you ever quantified how much time is spent in this activity, or how much human errors are impacting your business ?
With SaazleShipment®, stop wasting time in manually retrieving, filtering, sorting and grouping the documents you need to be together, just define your rules, push your documents, and we'll do that for you.

Save trees
Have you ever quantified how much paper waste your current document synchronization processes happens to create ?
With SaazleShipment®, you can now print only what you need to print, at the time you really need it, so you don't waste paper, consumables and assets anymore with unnecessary or redundants printouts.

Simplify document
workflows
With SaazleShipment®, you can send as many versions of the same document as you want, and you decide what SaazleShipment® will do with it.
And because it doesn't matter if you send a work in progress version of a document, integrating with your document workflow has never been easier, just send the documents when they're modified, and "voilà" !

Manage the
unexpected
With SaazleShipment®, your business rules are always up to date, no matter when your documents were sent.
So when your business need is changing, your legal constraints evolving, or when you are facing unexpected situations, you can adapt in real time, your documents can always be processed with your latest rules. No need to reprocess already processed documents…
Need help about how SaazleShipment®
can address your document synchronization needs ?